Rome Closed City
Anna Maria and Maria Luisa
"Anna and I have always been very different, but we were sisters after all, and we cared for each other as two sisters normally do, without exaggeration, because our personalities would soon tell us even more apart."

Marisa Pavan Aumont

Soumoy, Margaux. "Drop the Baby; Put a Veil on the Broad!" – Marisa Pavan's Story, FriesenPress, 2021, p. 9
Maria Luisa "Marisa" Pierangeli saw the light of day on June 19, 1932 in Cagliari, Sardinia shortly after her fraternal twin Anna Maria "Anna".
Marisa's architect father Luigi Pierangeli, born in 1906, was the only child of a middle-class Catholic family of Frontone on the Adriatic coast. Luigi lost his father at an early age and was raised by his bourgeois mother and powerful clerical uncle who educated him under traditional religious conventions.
Marisa's stay-at-home mother Enrichetta "Enrica" Romiti shared a similar background with Luigi. Born in 1908, she was the only child of an influential middle-class Catholic family of Fossombrone on the Adriatic coast and was raised by her powerful, bourgeois mother and grandmother since her father had died during World War I.
Luigi and Enrica fell in love and married when they were still young students, in spite of Enrica's family's reluctance for her to get married that young and with a boy who, they claimed, did not fit their standards.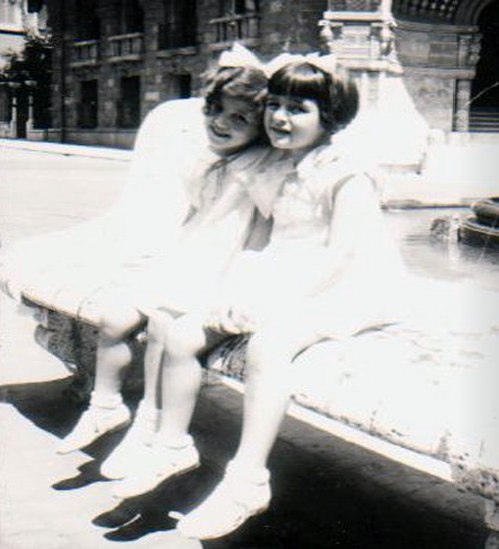 In 1935, when Luigi's three-year contract to drain mosquito-infested swamps in Sardinia was over, the family moved back to Rome where Luigi's independent architecture company was located, and the family settled on the third floor of an apartment built and owned by Luigi himself on Via Nemorense.
Luigi and Enrica revealed themselves to be strict parents who wanted to give their daughters the traditional and conservative education they had both received.
As for Marisa and Anna who already did not look alike physically in spite of Enrica's determination to always dress her twins alike, their psychological differences would soon tell them even more apart. Moon versus sun; cat versus dog; sour versus sweet… you name it! Marisa was a rebellious, introvert personality who favored more her mother in terms of looks and mentality and wasn't that close to her father, while Anna was a docile, extrovert personality who favored her father in addition to being a daddy's girl. No particular bond was ever noticed between the twins though they always had much consideration and respect for each other.
World War II
"Having lived during the war, we, as a generation of young war witnesses, grew up faster in the soul, matured earlier and became down-to-earth personalities wanting to be kind and generous towards our neighbor. We felt the need to give and protect. It is unexplainable."

Marisa Pavan Aumont

Soumoy, Margaux. "Drop the Baby; Put a Veil on the Broad!" – Marisa Pavan's Story, FriesenPress, 2021, p. 19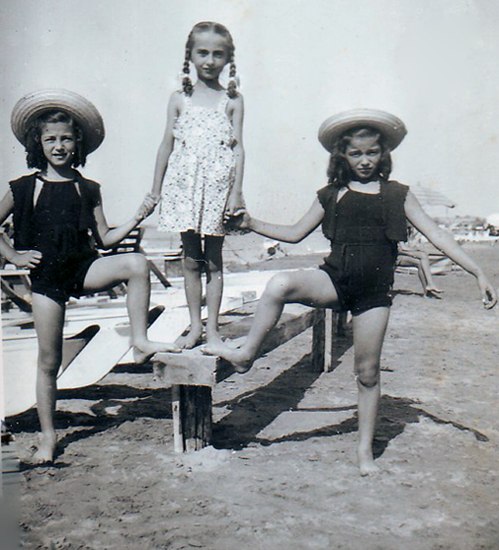 In June 1940, Fascist Italy entered World War II as an ally of Nazi Germany, and the horrors of the war soon impacted the Pierangeli family, just like so many other families across Europe. Rome became occupied by the German army, and the frontiers were watched closely.
Food was severely lacking in the capital and lines of starving civilians began to form in front of grocery stores. Unable to bear the situation any longer, Enrica decided to leave her family for a couple of months to go get food outside the capital by dressing like a man and hiding in trucks to reach the lands of her native Adriatic coast. Luigi and his daughters seemed to have lost all hope to see her even coming back alive, yet Enrica surprised her loved ones when she came back home one day with bags full of food.
During the war, the Pierangeli family took another risk: that of hiding in their cellar General Pavan, a Jewish friend of theirs who was wanted by the Nazis and the fascists. One of the family's uncles from Enrica's side had also been an officer under the commandments of the General in the past. Little Marisa would grow particularly fond of him during the war years.
From June 1944, the German army was chased from Rome by the Americans, and the war came to an end shortly after Mussolini's death on April 28th, 1945, the monster who scared Marisa for life, thus allowing her to become both an acute observer of the world and a rebellious soul from a very young age.
The Debut of Anna Maria Pierangeli
"All our friends had come to wave us goodbye at the airport, and they had made it sensational! It really did touch me. I was crying like a baby behind the plane's window. I couldn't stop."

Marisa Pavan Aumont

Soumoy, Margaux. "Drop the Baby; Put a Veil on the Broad!" – Marisa Pavan's Story, FriesenPress, 2021, p. 45
On November 15, 1947, the Pierangeli family celebrated the birth of an unexpected new member: an adorable, third baby girl named Patrizia much favored by Luigi who would grow up to become as beautiful and talented as her older sisters. She would also have a particular connection to Marisa who would spend the golden years of her youth raising her and taking care of her.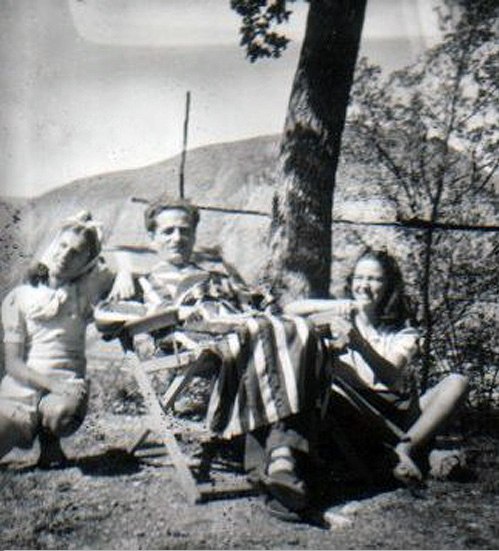 Even though the war had greatly impacted Anna and Marisa's psyche, the twins were now young, beautiful teens who both had to go on with their lives. While Anna's interests moved towards the manual arts, as a teenager, Marisa began developing an obsessive passion for dancing, and her dream was to become a ballerina. A dream that was heavily influenced by Enrica's own early obsession for show business, yet a dream that also remained unreachable due to Luigi's passionate hatred of the performing arts as a serious profession.
Both twins were average students and had attended the same elementary school. While Anna was sent to an art school after spending two years doing her schooling at home because of the pleurisy she had caught during the war, Marisa was sent to the strictest high school in Rome, the Liceo Torquato Tasso, where she studied History, literature, Greek and Latin, and where she developed a strong taste for classicism that would later define her unique personality.
The big twist of fate of the Pierangeli family's life occurred during the spring of 1948. One day, Luigi visited silent Italian actress Elena Caterina "Rina" Catardi (known as Rina De Liguoro) in her apartment, which he had built himself, as she was experiencing water issues. Anna, who only had eyes for her father, accompanied him. As soon as she entered the apartment, the innocent fifteen-year-old girl with the angelic face immediately caught the attention of Russian-born French director Leonid Moguilevsky (known as Léonide Moguy), friend of De Liguoro, who was spending time in Rome with his wife and daughter.
"After nine years of looking for a young leading actress for a film I have written with Marcel Achard…! That's her! That's her!", Moguy said right in front of Anna and Luigi.
Disoriented by the situation, Anna didn't say a word, and Luigi, jealous and unwilling to get involved in anything related to show-business, grabbed his daughter and went back home.
Yet, the craziest was to come. A week later, Anna was walking down the Via Veneto with her friend Maria after they were sent back home from art school because of their professor's illness. Maria invited Anna to stop by an art gallery to admire some Picasso paintings when Italian neorealist director Vittorio De Sica, who was having a cup of coffee nearby, caught a sudden glimpse of the frail and beautiful creature. Maria alerted Anna that De Sica was right behind them.
"May I have a look at you?", asked De Sica after touching Anna's shoulder. Once again, Anna's eyes stared at the intimidating figure, and no sound came out of her mouth.
"A friend of mine coming from Paris named Léonide Moguy is looking for a young leading actress for his film, and I do think you are the only one who can play that part!", continued De Sica.
Everyone including Marisa admitted that the circumstances of Anna's debut in film were unbelievable as two directors had spotted by pure chance the same girl in Rome in the space of only a few days and both knew instantly she was the one, even though hundreds of young girls had previously auditioned for the part. Anna was offered the leading part of Mirella in Moguy's film Tomorrow Is Too Late, but Luigi was yet to be convinced. Anna being underage, Luigi accepted to sign the contract at one condition.
"I will let you make this film only if you become the very best of them all… Otherwise it's over for you.", Luigi told his daughter.
Written by Moguy and Alfred Machard with the collaboration of Paola Ojetti, Oreste Biancoli and Giuseppe Berto for Rizzoli and Giuseppe Amato, Tomorrow Is Too Late (Original title: Domani è troppo tardi) tells the dramatic though happy-ending story of teenage schoolgirl Mirella Giusti (Anna) who discovers love and desire with her boyfriend Franco Berardi (Gino Leurini) while being enrolled in a very strict and conservative Catholic school. Arguments between the older and younger generations of professors (one of them being played by De Sica himself) do serve the purpose of Moguy's neorealist film of post-war Italy to promote a more down-to-earth and sincere education for youngsters, while giving them joy and hope for the future after the trauma of such a tough historical and social past.
Released in 1950 through Ente Nazionale Industrie Cinematografiche (ENIC) and RKO Radio Films SpA, Tomorrow Is Too Late was an immediate success in Italy and was rewarded with six awards, including Migliore Attrice Protagonista for Anna who also won the Silver Ribbon from the 1951 Sindacato Nazionale Giornalisti Cinematografici Italiani.
Marisa was not at all interested in acting, though she was curious enough to show up on the set of Tomorrow Is Too Late to observe how a film was being made. The boring filming process as well as the constant yelling and unhealthy atmosphere constantly emerging from the set did comfort her in her decision to not be an actress, especially after she noticed the hypocrisy and fake closeness of the same cast and crew that kept embracing and praising one another during the ceremony of the 1951 Venice Film Festival where Tomorrow Is Too Late was widely acclaimed. The unexpected success of his daughter, who was now on the front page of all the newspapers, brought Luigi to reconsider the situation and allow Anna to pursue an acting career.
Anna didn't have to wait very long before she was contacted by Italian drama theorist and critic Silvio D'Amico, founder of the Accademia Nazionale d'Arte Drammatica Silvio D'Amico, who had been mesmerized by her performance in Tomorrow Is Too Late and who wanted her to audition for the title role in American director Fred Zinnemann's MGM-produced film Teresa. D'Amico had been previously contacted by Zinnemann and the film's screenwriters Stewart Stern and Alfred Hayes who had been looking for a young Italian girl to play the part of hungry civilian Teresa Russo who falls in love with insecure American soldier Philip Cass (John Ericson) in Nazi-occupied Italy during World War II and marries him before moving to New York. Knowing Anna would be perfect for the part, D'Amico's words echoed Moguy and De Sica's the first time he met her: "This is my girl! This is Teresa!" Anna's screen test was sent to Zinnemann and Arthur M. Loew in New York who immediately offered Anna a ten-year contract with MGM, which was reduced to a seven-year contract on Luigi's demand. For two weeks Anna was sent 45 miles away from Rome surrounded only by American girls to learn English for the part. Released in 1951, the film was rewarded with two nominations and was another great success for young Anna who had won a Golden Globe for Most Promising Newcomer at the 1952 Golden Globes, and who was now beginning to build a reputation overseas as well. The reputation of a brilliant dramatic actress with an angel face and the innocence of a little girl. Considering her name too long and not marketable enough, MGM cut Anna's last name in half. Pier Angeli was born.
Shortly after Teresa, Anna was then offered the part of Luisa in Moguy's sequel of Tomorrow Is Too Late entitled Tomorrow Is Another Day (Original title: Domani è un altro giorno). Directed and written by Moguy with the collaboration of Domenico Meccoli, Oreste Biancoli, Sara Gasco and Giorgio Prosperi for Excelsa Film, Tomorrow Is Another Day is a three-part dark drama built in flashbacks that focuses on the tragic life stories of Giulia (Anna Maria Ferrero), an old widow (Rina De Liguoro) and Luisa (Anna) that pushed all three of them to attempt suicide, the old widow being the only one whose attempt had succeeded in provoking her death. These stories aim at preventing the film's main opening and closing character Linda (Linda Gore) from committing suicide and the film is also Moguy's personal way of telling the world that life is worth living, especially after the recent horrors of the war. Shot in Rome, the film was released in 1951 through Minerva Film.
For the Pierangeli family, the year 1950 ended with the unfortunate passing of Luigi whose health had progressively deteriorated over the years after he was bitten by a mosquito during the interlude of his three years working in the Sardinian swamps, and the year 1951 opened on an exciting note for Anna who was now awaited on the other side of the Atlantic ocean to pursue her Hollywood film career, but not for Marisa who remained heartbroken for a while at the idea of leaving her beloved Italy, friends and entire life behind.
Just a Joke
In February 1951 Marisa and her family set a foot on the North American 'dream' land for the first time and stayed in the Westwood Manor Hotel in Los Angeles for a week before they moved into their first home on West Sunset Boulevard in Brentwood. For young Marisa, both the amazement and culture shock were instantaneous.
As she couldn't speak a word of English and soon felt embarrassed at whatever event she would attend with Anna – or even terrified at the idea of simply answering the phone at home – Marisa enrolled for a semester in the University of California in Los Angeles to learn English before Scottish-born voice and acting coach Helena Sorell, who was already working with Anna at MGM, became her private coach in the art of mastering the English language for several years. With Anna being under contract to MGM and Enrica working full-time for MGM as Anna's manager, Marisa had to think about the kind of career she wanted to pursue. She knew two things. First; she'd always liked literature. And second; she could now master three languages: Italian, French (learned during her school years) and English. For a brief period of time the twin left in the dark thought she was destined to become a translator or interpreter. Little did she know…
The moment Marisa's fate took an unexpected and ever-lasting turn occurred on the day Mario Ungaro, Consul at the Consulate General of Italy in Los Angeles, invited the Pierangeli family to attend the regular friendly meetings of the Italian community living in Hollywood. One day Marisa ran into a friendly middle-aged man with Italian roots with whom she had a particularly pleasant conversation. The man happened to be famous American agent Albert Romolo "Cubby" Broccoli from the Famous Artists talent agency run by Charles K. Feldman. Too late now! Shy Marisa could not hide anymore… She had just been spotted and the rest would be history.
Marisa was getting closer and closer to her new confidant when the obvious question Agent Cubby had been keeping in mind for Marisa was finally asked.
– Marisa, don't you want to become an actress? You do have all the attributes and skills for it.
Yet, Marisa answered in the negative. Working in the film industry was of no interest to her. At least, that is what she tried to convince herself. With her next question, Marisa unconsciously threw a log on the already burning fire of Cubby's secret ambitions for his young Italian lady friend.
– But… I am curious to see how a film is being made in Hollywood and how the process of making films here differs from that of making films in Italy. Can I go with you on movie sets?
Cubby was delighted to respond to Marisa's favor and agreed to bring her with him on several movie sets for a couple of weeks. Even though Marisa did enjoy the spectacular mechanism of Hollywood filmmaking she had the privilege of witnessing from a first class spot, once her curiosity was satisfied, Marisa quickly got bored by the repetitive process of making movies and asked Cubby to go home. Little did she know he did not plan on letting her flee.
That day, Cubby took Marisa to an unknown and empty office.
– Wait for me there Marisa. I need to see a producer and talk to him about a project.
When Cubby reappeared in the office, he was accompanied by a man who became instantly fascinated with Marisa's accent and asked her to sing a little French song for him.
Thinking Cubby and the man with the imposing stature probably wanted to have fun, Marisa agreed to play along for a little while and sang the first French song that came to her mind: Je Suis Seule Ce Soir by Léo Marjane.
– I would like you to do a screen test for me., the man told Marisa when her singing was over.
– I don't know… What for? I'm not an actress. I've never acted anyway and I don't want to be an actress., Marisa replied.
– No, it's just a test. Don't worry. We are simply looking for a young girl. Please, do me that favor. You won't be forced to do anything in the end. Let's just see what happens.
Without much enthusiasm, Marisa nonetheless agreed to please Cubby and his friend and accepted the proposition. The man, who happened to be producer Sol C. Siegel, handed her a text and asked her to learn it and come back on the next day.
Dressed and made up as a 1918 French schoolgirl, Marisa was asked to audition on the following day in front of John Ford, who was nothing more than a random stranger in her eyes then. The other young lady that was going to be Marisa's competitor on that day was Anne Bancroft. Marisa acted with the exact same overly-relaxed behavior, still convinced that this whole auditioning process was a game orchestrated by Cubby and his friends. Little did she know that her indifferent behavior was about to become the best thing that would ever happen to her…
The phone rang at the Pierangeli's on the next day. Marisa recognized Cubby of course, though it took her a minute to realize she had been chosen by Ford to play the secondary part of Nicole Bouchard in his upcoming film What Price Glory.
I had never imagined that a plain, ridiculous joke would someday unleash my acting career…

Marisa Pavan Aumont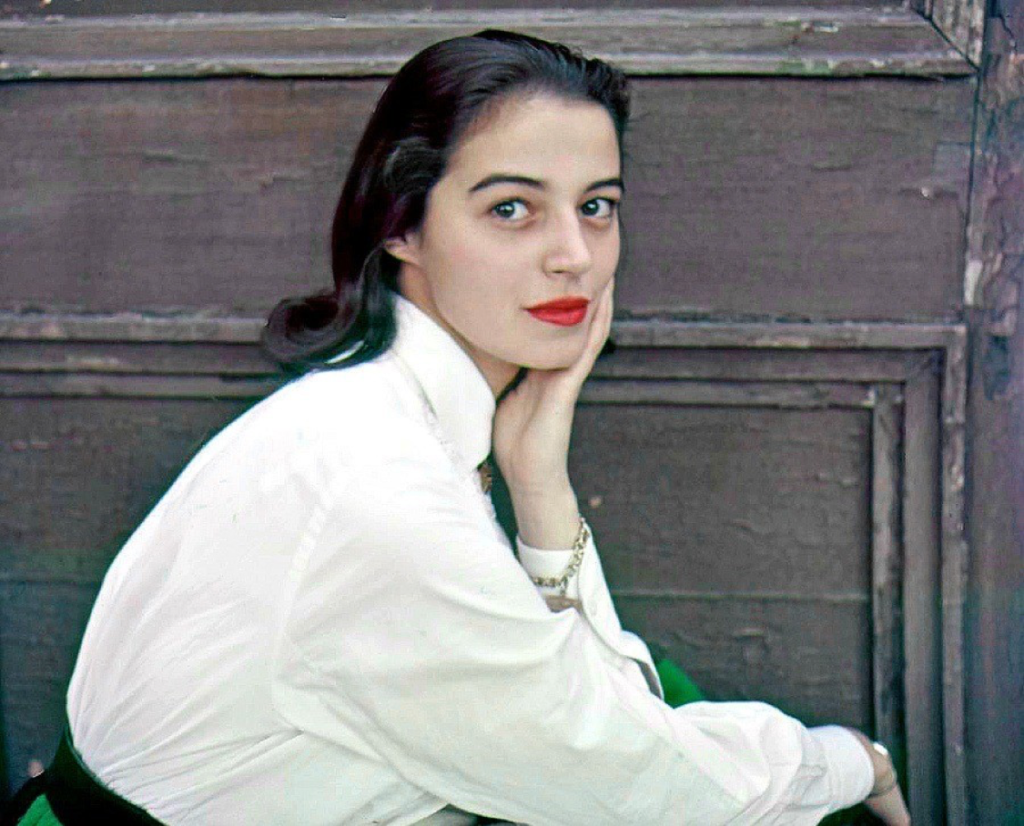 Anna, a naturally dreamy and naive young girl became interested in studying arts and took some painting and sculpture lessons whereas Marisa, a brilliant, hard-working and ambitious student preferred foreign languages and translation. Having a very down-to-earth personality, she's always been much more independent and stable in her life and work than her sister. Their younger sibling Patrizia was born in Rome on November 15th 1947.
Marisa and Anna
Even if they were twins, Marisa and Anna didn't look alike at all, had opposite personalities but both were extremely beautiful. Anna's face looked angelic and innocent, she had big beautiful green eyes and chestnut hair (which would become darker within the years). She was also very thin and a bit taller than her twin. As for
Marisa, her unique beauty was quite different. She had a roundish short face with sparkling dark eyes and straight, dark hair. She's been looking like a mature woman since she was about 13 years old. Anna was much closer to their father Luigi (to whom she looked a lot alike) whereas Marisa had the looks and character of their mother Enrica. As for Patrizia, she was a joyful mix of her two older sisters.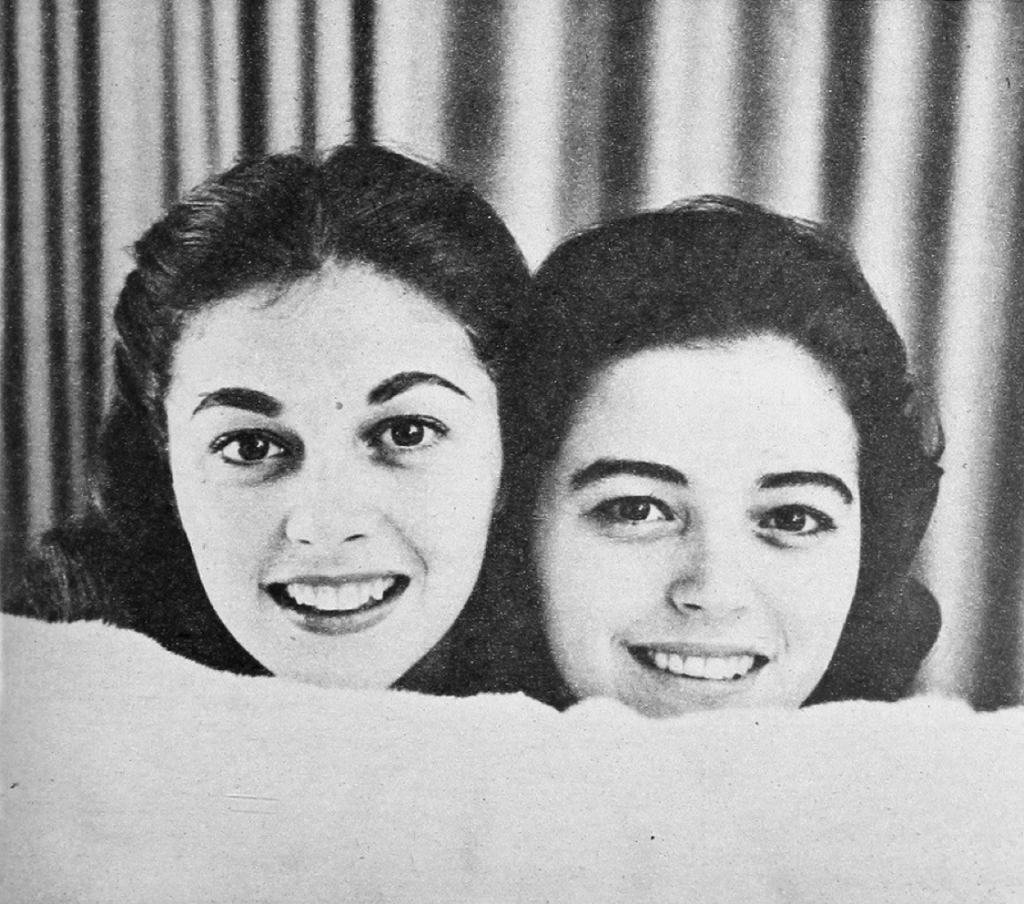 Anna had previously met him and inspired him when both were visiting actress Rina De Liguoro in her apartment after phoning Anna's father Luigi for his architect job. After an unexpected meeting, Anna was hired and the film was a huge success. It won 5 prizes and Anna was given an Italian award for "Best Actress of the Year" at the Venice Festival. Her newly-discovered acting talent was then noticed by Metro-Goldwyn-Mayer who offered her a 7-year contract in Hollywood.
California
That is why in 1950 and without any expectation, Marisa left Italy with Anna, Patrizia and their mother Enrica to settle down in California. Their father Luigi had died of disease shortly before they moved. Anna, now re-named "Pier Angeli" in Hollywood, was a successful actress who made great movies such as Teresa (1951), The Light Touch (1951) and The Devil Makes Three (1952), while Marisa continued her studies in foreign languages and journalism. She absolutely didn't want to be an actress and had never imagined that a plain, ridiculous joke would someday unleash her acting career.
A simple joke
One day, American producer Albert Romolo Broccoli (better known as "Cubby Broccoli") asked Marisa to act in front of an unknown audience just for fun, which she accepted. He brought her on a set at Twentieth-Century Fox and she was asked to sing in French, which she did once again, convinced that it was a plain joke. There she saw a young actress named Anne Bancroft dressed exactly like her and she freaked out. It was too late!
This "joke" turned into an unexpected audition in front of the great John Ford, who hired Marisa for his film What Price Glory (set for release in 1952) : " I had never imagined that a plain, ridiculous joke would someday unleash my acting career… " said Marisa. Time passed and Marisa became increasingly interested in acting. Refusing to be under contract with a particular studio, she hired an agent who was proposing her roles she would accept or refuse.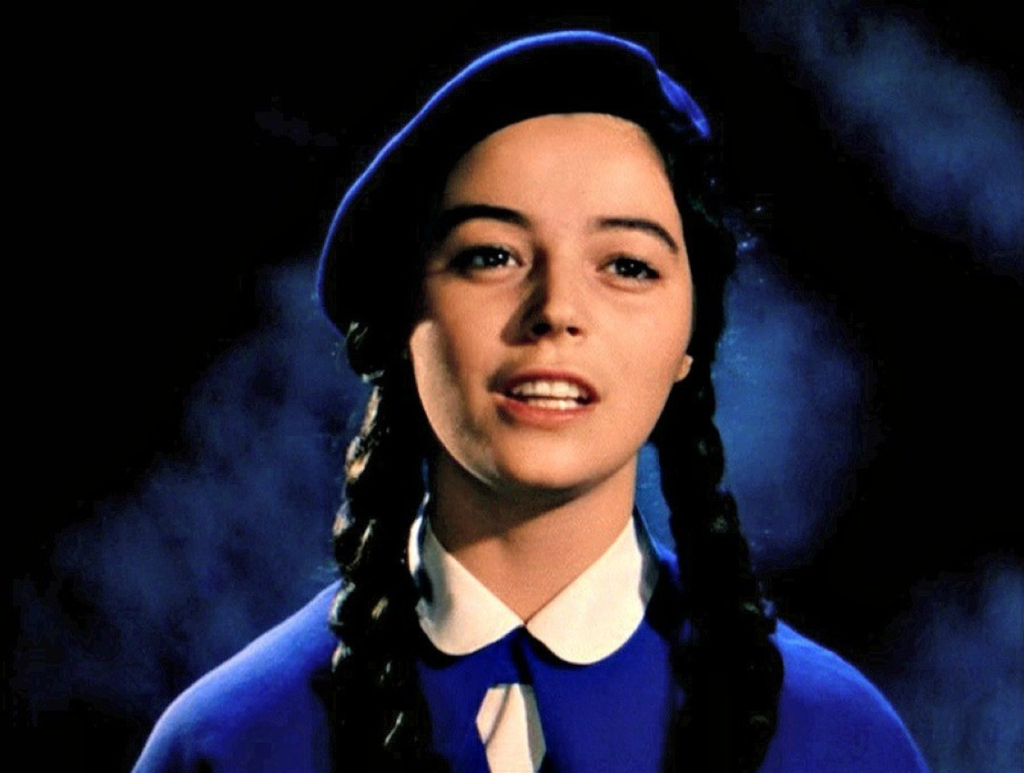 From Marisa Pierangeli to Marisa Pavan…
Immediately after becoming a Hollywood actress, Marisa had to come up with a new name to satisfy producers. She obviously couldn't use "Pierangeli" (her twin sister was already known under that name) After much reflection she settled on the name "Pavan", the name of a Jewish officer that her family accepted to hide in their home during WW2, and who positively fascinated her.
Jean-Pierre Aumont
In 1953, Marisa caught her first glimpse of the man she would marry 3 years later. At that time, she was in Paris to escort her sister Anna, who was filming Mam'zelle Nitouche. One night, the two sisters decided to go out and watch the play "Les Pavés du ciel" with French performers Jean-Pierre Aumont and Micheline Presle. At the end of the representation, Marisa and Anna went into Jean-Pierre's dressing room to congratulate him. Marisa, very shy, gazed at him without saying a word. They met again by chance in Hollywood in 1956, fell in love and were married in Santa Barbara on March 27th 1956. Everything had been done so quickly. Marisa met for the first time the lovely Maria-Christina "Tina" Aumont, daughter of Jean-Pierre and Dominican actress María Montez, who had died in 1951.
1956 Oscars
She appeared in The Rose Tattoo with Anna Magnani, a movie adapted from a play by the talented playwright Tennessee Williams whose works Marisa was already familiar with. Filming this picture had not been very easy but Marisa ended up with a nomination for "Best Supporting Actress" at the 1956 Academy Awards. This role remained her favorite throughout her entire career.
Births
On August 13th 1957 Marisa gave birth to a son, Jean-Claude. She continued making movies in Hollywood such as The Midnight Story with Tony Curtis, John Paul Jones (in which her husband Jean-Pierre also played) and Solomon and Sheba which was not a happy memory for her. On February 10th 1960 she gave birth to a second son, Patrick.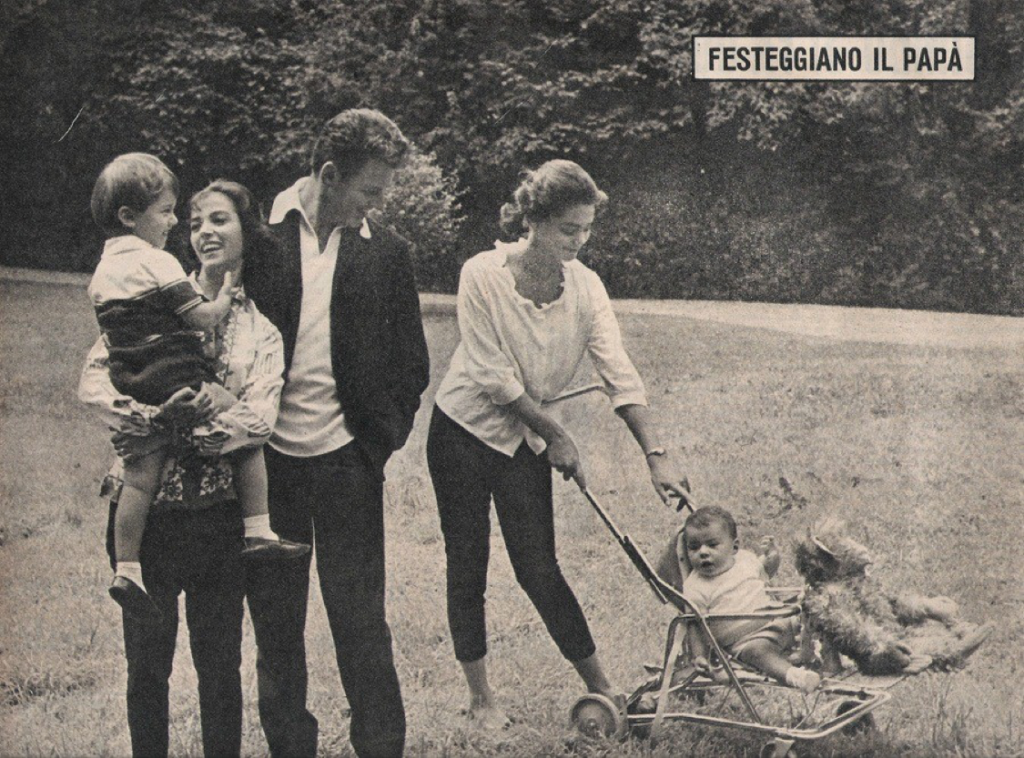 TV
From the 1960s, Marisa worked more in television. Among her best memories was the episode "Come Back to Sorrento" from the Westinghouse Desilu Playhouse series, the episode "Ambush" from the Combat series and "The Diary of Anne Frank" in 1967.
Concerts and discs
However, Marisa was more than a television/cinema actress, she was also a singer, appeared in concerts and recorded her own albums. She toured Europe and America with Jean-Pierre and performed in plays such as "Gigi". In the 1970s, she made a few more French films.
France
Nowadays Marisa lives in Gassin, in the South of France and organizes gala charity events every year in order to raise money for her URMA association, an association she founded herself to support and finance research laboratories working to find treatments against Alzheimer. Her sister Patrizia lives in Paris and uses her delightful voice to dub movies and record songs and nursery rhymes. Both sisters are perfectly fluent in several languages including Italian, English, French and even Spanish. They remained very close to each other, especially since Anna's premature death on September 10th 1971.