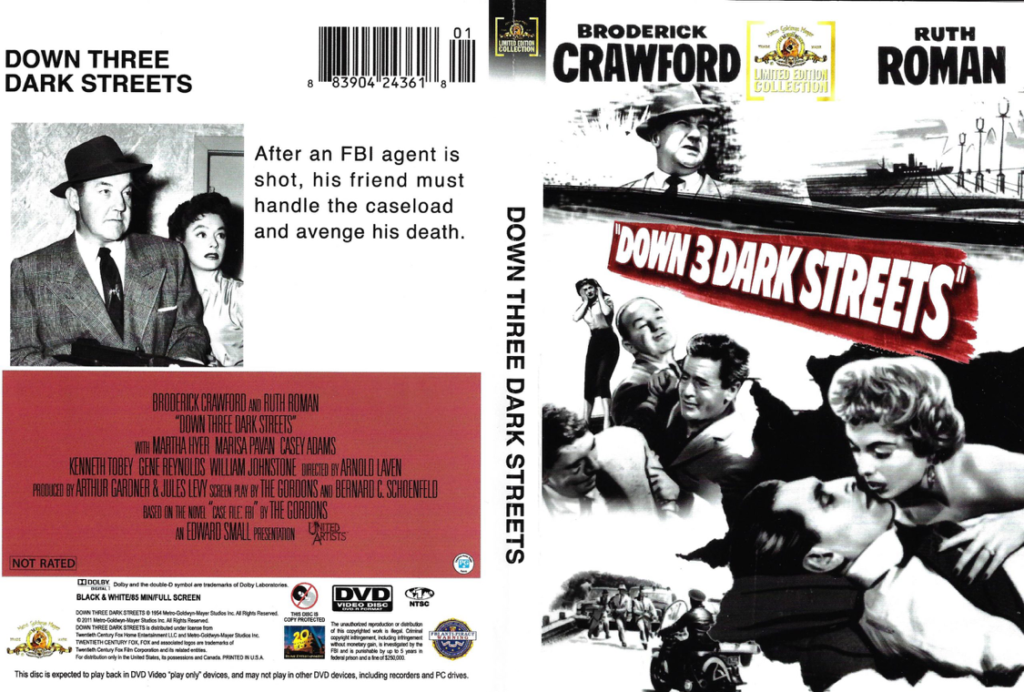 First traditional Hollywood crime film set in the present time
"I went to UCLA to screen archives to see how blind people lived and be able to represent one of them. And it was difficult for me as I am used to stare at people."

Marisa Pavan Aumont
At the first level, and at all of them at the same time, this film appears quite plain and simply another one of the genre that uses the same classical codes of crime filmmaking that people are apparently entertained by, even nowadays.
The vulnerability of women with values
After the murder of FBI Agent Zack Stewart, Agent John 'Rip' Ripley takes on the two cases his partner was working on. The first one deals with criminal Joe Walpo who is searched by the police. The second one focuses on Vince Angelino who is suspected of car theft. A third case occurs at the same time when Kate Martell receives a threatening call from an unknown man who orders her to give him her late husband's 10 000$ insurance money after the latter died accidentally otherwise he will kill her young daughter. Will Ripley manage to resolve the three cases before it is too late? The plot of the film, much classical for the genre and era, is written and staged efficiently through three parts. The characters are embodied by excellent actors, some of them being more independent. Though I have not found the film particularly artistic, our young Marisa is pretty convincing as a blind housewife with a costume and hairstyle that do fit the character though they might not flatter Marisa's physical attributes that much. Her performance is once again all the more sincere, touching, and realistic! I give three stars.
Presentation of the film by American author Ralph Schiller
Down Three Dark Streets
Down Three Dark Streets (1954) was released by United Artists and filmed in black and white. It was produced by Edward Small Productions with a running time of 85 minutes. It was directed by Arnold Laven. The screenplay was written by Mildred Gordon and Gordon Gordon, and Bernard S. Schoenfeld based on the Gordons' novel Case File: FBI. The score was composed by Paul Sawtell.
Down Three Dark Streets is a superior police/murder mystery that keeps viewers on the edge of their seats from beginning to end and one of Broderick Crawford's best films.
In Los Angeles, FBI Agent Zack Stewart (Kenneth Tobey) is killed in the line-of-duty while working on three separate cases. His partner, Agent Ripley (Broderick Crawford), searches for the killer. Wanted murderer, Joe Walpo (Joe Bassett), kills an alert gas station attendant, (William Schallert). Ripley sees Walpo's exotic dancer girlfriend, Connie Anderson (Martha Hyer), and shows her a photo of Walpo's new girlfriend, a gorgeous brunette. She kicks him out. Under FBI surveillance, she takes a streetcar to the end of the line, and changes directions several times to arrive at a hidden cottage. Walpo lets her in, but Agent Ripley orders him to surrender. He comes out with guns blazing and is killed by FBI agents. Agent Stewart arrests Vince Angelino (Gene Reynolds), a man with no previous records, for a ring of car thefts. Angelino's blind wife, Julie (Marisa Pavan), is threatened by thug Matty Pavelich (Claude Akins), who warns her husband to keep his mouth shut. He strikes her when she touches his face. She calls Agent Ripley and gives a detailed description of a scar on his left cheek and boxer's cauliflower ears. Matty is arrested, but Vince refuses to identify him until Ripley mentions the beating his wife took. Angelino fingers Matty for Grand Larceny, but the ex-boxer was in Nevada when Agent Stewart was murdered.
Widow Kate Martell (Ruth Roman) is terrified by an anonymous caller extorting her for $10,000 and threatens to murder her daughter. One suspect is boyfriend Dave Milson (Max Showalter), who loves Kate. The extortionist calls her at work demanding the money in small bills and orders her to bury the money under the 'W' of the famous hillside 'Hollywood' sign. Agent Ripley follows Kate. She arrives at the crumbling Hollywood landmark and discovers Dave Milson! He admits to murdering the FBI agent and tries pushing her off the hillside. Agent Ripley fires a warning shot and saves her life. Milson is arrested and Agent Ripley returns Kate's money.
Down Three Dark Streets is an outstanding crime film and was a big hit at the box office. It contains fascinating behind-the-scenes footage that present the FBI as a modern, efficient, law enforcement organization with the latest science and technology to battle crime. The film is dedicated to the men and women of the FBI. It was produced by the prolific Edward Small, who released his films through United Artists over thirty-five years. The screenplay is tight without padding. The Gordons wrote screenplays based on their popular FBI novels with character Special Agent John Ripley. In 1962, they adapted Experiment In Terror into a suspenseful motion picture with Glenn Ford as Agent Ripley also to big box office. Arnold Laven does first-rate work tautly directing Down Three Dark Streets.
Martha Hyer has a grand time playing over-sexed burlesque-dancer Connie Anderson in a break-out role. Hyer was married to movie producer Hal Wallis until his death in 1986. With his large broad-shouldered physique, black wavy hair, and deep booming voice, Claude Akins plays violent thug Matty Pavelich to perfection as he terrorizes Julie Angelino. Ruth Roman is deeply moving as Kate Martell, a terrorized mother. Max Showalter is frightening as Dave Milson, the affable family friend who is really an evil killer and extortionist.
Marisa Pavan gives a wonderful performance as Julie Angelino, Vince's blind, loving wife who puts him back on the straight and narrow. In an interview with the author, Marisa Pavan said, "You ask me about a film I made so many years ago! The producer Edward Small contacted my agent and asked for me to play the role. I read the script and liked the story but before I accepted I went to UCLA to study the handicap of blindness and how blind people live. I loved working with Broderick Crawford! He was wonderful, always a perfect gentleman. He was a big Hollywood star but such a sweet and kind man. He was a pleasure to work with." When asked if she was injured in her violent scene with Claude Akins, Marisa Pavan said "No, not at all, we were professionals! Claude Akins was a very nice man, and so gentle. He didn't want to hit me so I finally told him not to be afraid and to just do it! [laughs] Afterward he runs over to me saying 'I'm so sorry, please forgive me! Are you hurt? Are you okay?' He was almost crying!" Marisa Pavan was the twin sister of the beautiful and tragic film star Pier Angeli. Marisa Pavan lives in France and donates her time to the handicapped. Her late husband was film star Jean-Pierre Aumont.
Character actor William Schallert has a key role as friendly gas station attendant Ben. In an interview with the author, Schallert said, "Oh! Broderick Crawford was a tremendous actor! I was very young when I made that film and I loved working with him. He was very nice to me, which doesn't happen an awful lot in Hollywood."
This was Broderick Crawford's first film as a free-lance actor after seventeen years under contract to three Hollywood studios. He couldn't have chosen a better one and plays Special Agent John Ripley as an honest, dedicated, cop in a performance that ranks as one of his very best. He's spellbinding in scenes where Special Agent Ripley's voice booms, "All right Walpo, this is the FBI! Come out with your hands up!" He also shows the human side of the men and women who serve and protect us when he expresses sorrow at the murder of his friend, his partner who left behind a wife and two children. This G-Man even keeps a sense of humor like when a crackpot inventor (Milton Parsons) presents the FBI with a machine that lights up when it detects a foreign spy, including an IRS agent! Agent Ripley dryly says, "Even the tax man, huh? I find that very interesting. We'll requisition one of these right away!" Down Three Dark Streets was a preview of Broderick Crawford's biggest success.
Note: Down Three Dark Streets is available in a pristine widescreen DVD from MGM-UA.
Extract: The Complete Films of Broderick Crawford (Ralph Schiller, 2016)
Marisa was ready for her next challenge as a secondary character!
Sources
Author: Margaux Soumoy
MOVIE CLIP
Down Three Dark Streets
Direction: Arnold Laven
Release Date: 3 September 1954
Screenplay: Gordon Gordon, Mildred Gordon, Bernard C. Schoenfeld
Origin: Case File: FBI (The Gordons, 1953)
Genres: Crime, Drama , Film-Noir
Cast: Broderick Crawford (FBI Agent John 'Rip' Ripley), Ruth Roman (Kate Martell), Martha Hyer (Connie Anderson), Marisa Pavan (Julie Angelino), Max Showalter as Casey Adams (Dave Millson), Kenneth Tobey (FBI Agent Zack Stewart), Gene Reynolds (Vince Angelino), William Johnstone (FBI Chief Frank Pace), Harlan Warde (FBI Agent Greg Barker), Jay Adler (Uncle Max – aka Charles Martell), Claude Akins (Matty Pavelich), Suzanne Alexander (Brenda Ralles), Myra Marsh (Mrs. Downes), Joe Bassett (Joe Walpo – aka Joe Allen)
Crew: Arthur Gardner and Jules V. Levy (Produced by), Paul Sawtell (Music), Joseph F. Biroc as Joseph Biroc (Cinematography), Grant Whytock (Film Editing), Ted Haworth as Edward S. Haworth (Art Direction), Gustaf Norin (Makeup artist), Milton Carter (Assistant director), Herbert R. Hoffman as H.R. Hoffman (Sound editor), John K. Kean and Buddy Myers (sound), Chuck Keehne (wardrobe), Edward Small (presenter), Harlan Warde (dialogue director)
Technical details
Production Co.: Edward Small Productions
Country: USA
Filming Locations: Ohrbach's, 5711 Wilshire Boulevard, Los Angeles, California, USA (Department store in which Kate Martel works as a buyer) / Hollywood Sign, Hollywood Hills, Los Angeles, California, USA / Los Angeles Subway System, Los Angeles, California, USA / Pacific Electric Subway Tunnel, Los Angeles, California, USA / Samuel Goldwyn Studios – 7200 Santa Monica Boulevard, West Hollywood, California, USA
Language: English
Release Dates: 28 October 1954 (UK), 8 November 1954 (Canada), 17 January 1955 (Sweden), 21 January 1955 (Ireland), 5 February 1955 (Netherlands), 23 February 1955 (Johannesburg, South Africa), 25 March 1955 (Marseille, France), 5 April 1955 (Paris, France), 28 April 1955 (Italy), 28 July 1955 (Australia), 23 September 1955 (West Germany), 28 October 1955 (Finland), 1956 (Argentina), janvier 1956 (Autriche), 27 August 1956 (Norway), 12 July 1957 (Portugal), 13 March 1958 (Turkey), 21 July 1958 (Denmark)
Also Known As (AKA): No hay crimen impune (Argentina)(original subtitled version), Drei dunkle Straßen (Austria), De moordenaar onder hen (Belgium)(Flemish title), L'assassin parmi eux (Belgium)(French title), Não Há Crime Sem Castigo (Brazil), Down Three Dark Streets (Canada)(English title), L'assassin parmi eux (Canada)(French title), I lovens net (Denmark) Kiristäjä paljastuu (Finland), L'assassin parmi eux (France), Kato stous 3 skoteinous dromous (Greece)(transliterated title), Squadra investigativa (Italy), Inspecteur Ripley slaat toe (Netherlands), Ruas Sombrias (Portugal), Dealungul celor trei străzi întunecate (Romania), No hay crimen impune(Spain), Till polisens förfogande (Sweden), Karanlik Sokaklar (Turkey)(Turkish title), Down Three Dark Streets (UK), Case File: FBI(USA)(working title), Down 3 Dark Streets (USA)(poster title), Drei dunkle Straßen (West Germany)
Runtime: 85min
Sound Mix: Mono (Western Electric Recording)
Color: Black and White
Aspect Ratio : 1.37 : 1 (negative ratio) / 1.75 : 1 (intended ratio)
Negative Format : 35mm
Cinematographic Process : Spherical
Printed Film Format : 35mm
DVD of the film found on eBay by Margaux Soumoy
Pseudonym of the seller: oddbanana
Shipping service: USPS First Class Mail International / First Class Package International Service
Source of the DVD: USA
Date: 2017