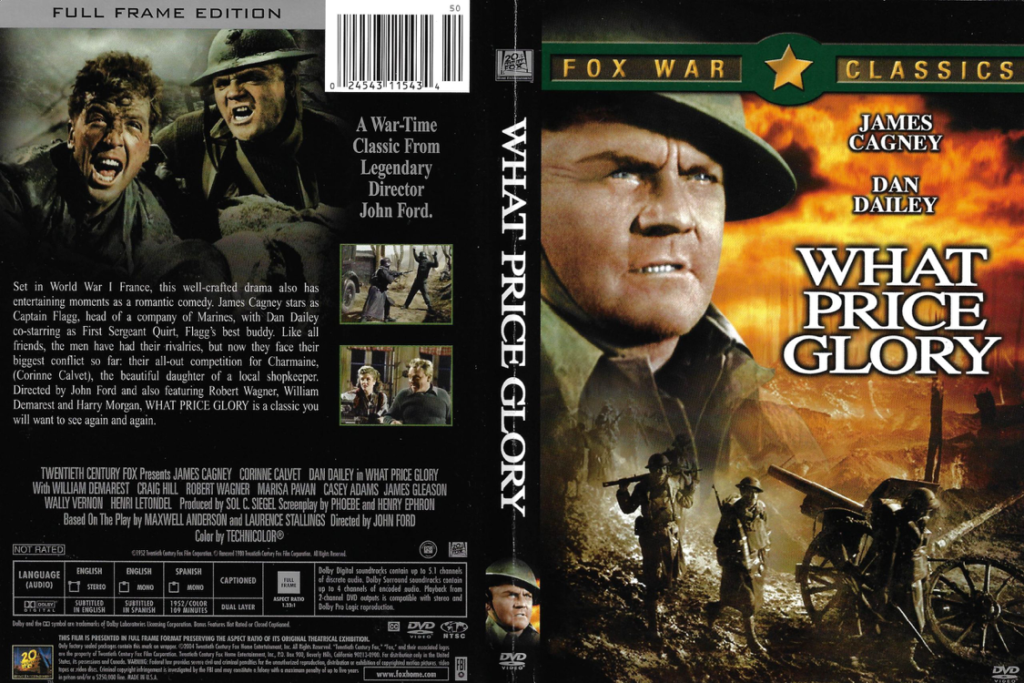 An introduction to Hollywood
"John Ford was extremely kind with me…! He could have been a father. He used to take me in his arms and cuddle me as if I were a fragile bird."

Marisa Pavan Aumont
And there comes the young and shy amateur, shadow and twin of the famous "Pier Angeli", who finds herself far away from her traditional and native Italian home finally free from the war, and thrown at the very heart of a movie set directed by the grand John Ford in a world of pride, price, and glory…!
What Price Glory may not be known as Marisa's greatest achievement, nor as a big project in the history of motion pictures, but it surely is the only classic that stages Marisa in such an innocent and genuine way, in addition to bringing to the big screen her true personality, at the start of her new life on the land of the American dream.
A charming double French accent
I chose to present you this clip as it is Marisa's longest and most important scene in the film, the one that introduces her character to the world, the one that makes us hear her English AND French speaking and singing voice, with her lovely little European accent, and the one that leads to a visual, narrative, and dramatic cut in the film to allow Ford to focus on his new emerging talent.
Trailer
Bar-le-Duc, 1918
An army of American veterans led by Captain Flagg arrives in France to fight against the enemy. It doesn't take long for Flagg to fall in love with Charmaine, the daughter of one of the village's innkeepers, but war administration is such for Flagg that Sergeant Quirt manages to get involved into a loving trio, that will eventually turn into a mess. As a matter of fact, love is truly in the air, as Private Lewisohn also falls for the charms of schoolgirl Nicole Bouchard. What will triumph? The love for a woman, the love for duty, the harsh reality of war…? All three of them? Or none? One feels the play behind the choices of mises-en-scène, and the comic genre is stronger than the dramatic and musical ones. The music, Nicole's song, the costumes, and the Technicolor process are the strength of the film, however, the actors are loud, and their acting is much exaggerated, which did not make me laugh, in addition to creating an atmosphere not that suitable for the talent that they have. The story is interesting, and staged in a classical yet dynamic and efficient way, but it did not captivate me that much because of its lack of delicacy and poetry for example, which Marisa, though completely new to the profession and in a specific state of mind during the shooting, does add to it! I give it three stars.
Laurence Stallings' response to the film
She had just set a foot in the United States, and she was already offered a seven-year contract with Fox after she captured the interest and heart of Cubby Broccoli, Sol C. Siegel, and the tough one with fame, John Ford! What if her contract wasn't that idealistic in the end?
Sources
Author: Margaux Soumoy
MOVIE CLIPS
What Price Glory
Directed by: John Ford
Release Dates: 25 July 1952 (Atlantic City, New Jersey (premiere)), 15 August 1952 (Los Angeles, California), 22 August 1952 (New York City, New York)
Screen Play: Phoebe and Henry Ephron
Origin: Maxwell Anderson and Laurence Stallings' play What Price Glory?
Genres: Comedy, Drama, Musical
Cast: James Cagney (Capt. Flagg), Corinne Calvet (Charmaine), Dan Dailey (1st Sgt. Quirt), William Demarest (Cpl. Kiper), Craig Hill (Lt. Aldrich), Robert Wagner (Pvt. Lewisohn), Marisa Pavan (Nicole Bouchard), Max Showalter as Casey Adams (Lt. Moore), James Gleason (Gen. Cokely), Wally Vernon (Lipinsky), Henri Letondal (Cognac Pete)
Crew: Sol C. Siegel (Produced by), Alfred Newman (Music), Jay Livingston and Ray Evans (Song My Love, My Life), Joseph MacDonald as Joe MacDonald (Director of Photography), Dorothy Spencer (Film Editor), Lyle R. Wheeler as Lyle Wheeler and George W. Davis (Art Direction), Thomas Little and Stuart A. Reiss as Stuart Reiss (Set Decorations), Edward Stevenson (Costumes Designed by), Ben Nye (Makeup Artist), Winston H. Leverett as Winston Leverett and Roger Heman Sr. as Roger Heman (Sound), Ray Kellogg (Special Photographic Effects), Charles Le Maire (Wardrobe Direction), Edward B. Powell as Edward Powell (Orchestration), Billy Daniel (Dances Staged by), Leonard Doss (Technicolor Color Consultant)
Technical details
Production company: Twentieth Century-Fox Film Corporation
Country: USA
Filming Locations: Marine Corps Base Camp Pendleton, 20th Century Fox Studios
Filming Dates: December 1951
Languages: English, French
Release Dates: 6 February 1953 (France)(limited), 16 March 1953 (Sweden), 1 May 1953 (Japan), 5 June 1953 (Finland), 10 July 1953 (Australia), 31 October 1955 (Portugal), 22 June 1964 (Denmark)
Also Known As (AKA): Deux durs à cuire (Belgium (French title)), Twee voorvechters (Belgium (Flemish title)), Sangue por Glória (Brazil), What Price Glory (Canada (English title)), Kaptajnen, sergenten og Charmaine (Denmark), Au service de la gloire (France (alternative title)), Deux durs à cuire (France), Doxasmenoi pezonaftes (Greece), Uomini alla ventura (Italy), 栄光何するものぞ (Japan (Japanese title)), O Preço da Glória (Portugal), Glorie cu ce pret(Romania (literal title)), Какова цена славы (Soviet Union (Russian title)), El precio de la gloria (Spain), Kapten Flagg(Sweden), Zaferin bedeli (Turkey (Turkish title)), What Price Glory (UK), Hombres a la aventura (Venezuela)
Runtime: 111min
Sound Mix: Mono (Western Electric Recording)
Color: Color (Technicolor)
Aspect Ratio: 1.37 : 1
Laboratory: Technicolor
Film Length: (11 reels)
Negative Format: 35mm
Cinematographic Process: Spherical
Printed Film Format: 35mm
DVD of the film found on eBay by Margaux Soumoy
© 2004 Twentieth Century Fox Home Entertainment, Inc.
DVD distributed under license from Twentieth Century Fox Home Entertainment, Inc.
Series: Fox War Classics
Pseudonym of the seller: inetvideo-canada
Source of the DVD: Montreal (Canada)
Shipping service: Canada Post Regular Parcel
Date: 20 May 2017