My very first live TV show! I was feeling pretty nervous but I got the chance to work with absolutely lovely and delightful people!

Marisa Pavan Aumont
Introduction
The live dramatic TV episode "Dominique" was introduced by the Studio One TV series and sponsored by the American company The Westinghouse Electric Corporation. The 28th episode of the 7th season, it was directed by Franklin Schaffner and aired on American TV screens on Monday, March 28th 1955 in the evening, on CBS (Columbia Broadcasting System). Nevertheless, "Dominique" is on the whole much more than just a dramatic TV episode. It deals firstly with a beautiful love story between two human beings and two cultures (Italian and American), which is remarkably performed by Ralph Meeker in the role of the main protagonist, "regular American guy" Steve Windom. Our charming Marisa is in the title role of Dominique Francesca Della Fiore Windom, Steve's recent wife and newcomer to the United States. In addition to giving us a global view on what immigrants can feel when facing a culture shock, this episode is the target of a screenplay, a mise-en-scène and a musical score that I personally consider magical from the beginning of the television era in the United States.
About the series…
Originally entitled Studio One, the Westinghouse Studio One series was also known under various names over its 10-year live broadcast on television. Thus, the following titles Westinghouse Studio One, Westinghouse Summer Theatre, Summer Theatre, Studio One Summer Theatre and Studio One in Hollywood (after 1955) all refer to the same unique series. Created in 1947 by Canadian director Fletcher Markle, it is one of the first American series to include weekly dramatic episodes that were aired at regular hours on TV between 1948 and 1958. (A record time back then according to numerous film critics!) This series was first carried out on the radio but it then quickly conquered the live television recording era, especially thanks to American producer Worthington Miner, by programming 60-minute long episodes every Sunday night (from November 1948 to May 1949), Wednesday night (from May 1949 to September 1949) to finally opt for a regular broadcasting every Monday night (from September 1949 to September 1958). All the live episodes were aired on CBS (Columbia Broadcasting System) and in addition to being one of the first long-running dramatic series on TV, very different scripts were being written each week and the mise-en-scènes were particularly and aesthetically visual, something which nowadays would be considered too "risky" to understand and follow a series according to Jason Jacobs from the "Museum of Broadcast Communication" in Chicago, Illinois. (source: EmmyTVLegends.org) To put it in a nutshell, each episode in itself is a real full-length film rather than just the "cog" belonging to the gigantic gears of that series. Moreover, many important producers have succeeded to one another in this series such as Herbert Brodkin, Worthington Miner, Fletcher Markle, Felix Jackson, Norman Felton, Gordon Duff, William Brown, Paul Nickell, Franklin Schaffner or Charles H. Schultz. In the case of "Dominique", producer Felix Jackson worked with Franklin Schaffner as the director. It is quite interesting to notice that Marisa had the chance to work with some of them like Fletcher Markle shortly after "Dominique" in "Meeting at Mayerling", an episode from the Front Row Center TV series but also twice with Paul Nickell in the episodes "Climax!" from the Keep Me in Mind series in 1957 and "Requiem for a Sunday Afternoon" from the Naked City series in 1961. This successful series includes a total of 10 seasons and 466 episodes. In each of them, American actress and journalist Betty Furness (from her real name Elizabeth Mary Furness) is the spokeswoman for the Westinghouse Electric Corporation company for which she advertises (sometimes in a pretty utopian way) a specific household appliance of the Westinghouse trademark that had just been released and put on sale at the time. Her usual speech is very often humorous and her comments are the target of two or three 2-minute long slots during the episode. "Dominique" ends on a final comment by Betty Furness preceding a short announcement (much like the traditional movie trailer in cinema!) about the "Cross My Heart" episode planned for airing on the next Monday, on April 4th 1955.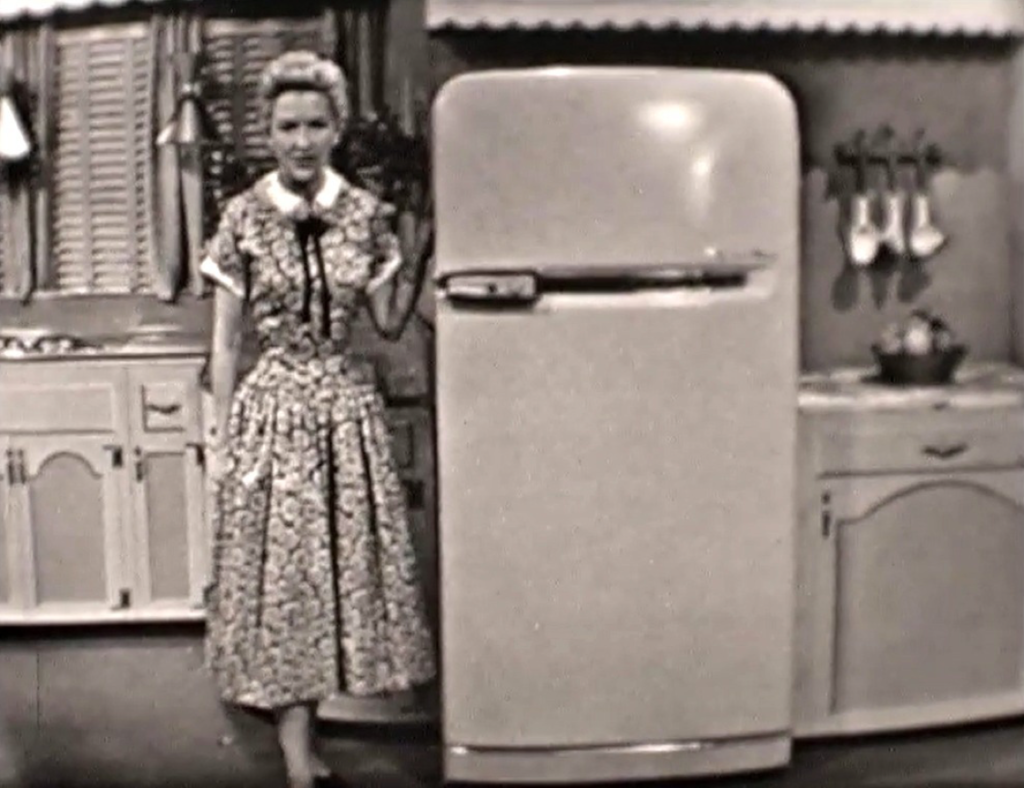 About Franklin Schaffner…
Born in 1920 in Tokyo (Japan) and deceased in 1989 in Santa Monica (California, USA), Franklin Schaffner was "one of the most renowned and in demand American directors at the beginning of the television era with his ability to carry out tracking shots, close-ups and interesting camera movements while other directors were performing sequence-shots from a rather fixed camera angle", according to famous website Internet Movie Database. Nowadays, Schaffner is better remembered for his film The Planet of the Apes which was directed in 1968 and which is still considered a classic and one of the best films ever made at the end of the 1960's. With fifteen or so films to his credit and many television works, he won the Oscar for Best Director in 1971 with Patton, which won 7 Oscars for itself! Schaffner was also TV counselor for the 35th President of the United States, John F. Kennedy. No surprise then that he went on to direct the U.S. election-themed The Best Man (1964). Marisa worked again with Schaffner barely one year after "Dominique" to shoot "Antigone", another live TV show produced by the The Kaiser Aluminum Hour series in 1956, which is based on the famous theatrical adaptation of the Antigone Greek myth by French playwright Jean Anouilh.
Marisa or Dominique Francesca Della Fiore Windom?
Aged 22 at the time the episode was recorded, Marisa plays the prevalent role of Dominique, a young and lovely 18-year-old Italian lady recently married to Steve Windom. She leaves her native village of Montefioralle to settle in Vermont, in the United States, with her husband whom she met and married when he was on a business trip in Italy. In addition to playing the main protagonist, Marisa holds the title role of the episode whereas at the time of filming, in 1955, she was still a young and inexperienced movie actress and newcomer to television! We shall not forget to mention that Marisa is an Italian-born actress and that her role of Dominique echoes what she truly lived when she immigrated to the United States, which means that she was a stranger in America with absolutely no knowledge of the English language upon her arrival and that she clearly did not want to leave her native country for a culture much too different from hers. Just like the wonderful outcome of the story (which you can read about below), Marisa ended up getting used to America and liking the American way of life, surrounded by many friends and always pushed to meet new people.
"Dominique": a script and mise-en-scène modelled on Marisa's own experiences upon her arrival in the United States!
An "enclosed" piece filmed in black and white and having comedic and dramatic tones, the direction utilises a varied series of shots and angles to accentuate each action and emotion the characters display. To do so, Schaffner often goes from a tight shot to a medium shot of both main characters before pulling back to a wide shot that situates them. This is achieved with multiple camera set ups or with moving dolly shots without cutting. Now let's dive into the Italian-American atmosphere of the script for "Dominique", which is at once romantic, dramatic and comical as written by Ernest Kinoy for Westinghouse Studio One and based on a story idea by Daniel Hollywood (who also wrote the original script of the TV episode "Requiem for a Sunday Afternoon" from the Naked City series in which Marisa played in 1961!) The show is divided into two distinct parts, each of them being separated by a commercial host by American actress and spokesperson for the Westinghouse products, Betty Furness who was promoting various newly-created household appliances in the 1950s, a decade during which the United States were extolling a free, modern way of working for housewives. After the appearance of the series' title accompanied by ravishing dramatic music in the opening credits, the episode starts with a succession of shots representing all the technical stereotypes of the American dream including nation, the American navy and its equipment at the cutting edge of industrial technology, the perfect American household and the life everybody dreams of having. To sum up things, very utopian propaganda of the "American dream"! Each shot is described and commented on by John Cannon's voice-over, the series' narrator, before ending up in the famous advertising slogan: "You can be SURE if it's Westinghouse!" which is heard during every commercial for household appliances by Westinghouse. The first part of the show begins with close-ups on the neighborhood kids' faces, with quite ugly-looking expressions and choleric temperament. They suddenly start to make believe they are shooting at a beautiful statue taking up centre stage at the porch entrance to the house where the action is going to take place. We then discover one of the two main protagonists, Steve Windom, while a police officer inquires about the origins of the mysterious statue. Steve's role is interpreted by Ralph Meeker who offers us a more-than-interesting dramatic performance in this show. We later learn that this much talked-about statue is, in fact, a wedding present from Steve's wife whom he met while on a business trip in Italy. Before talking about that Italian woman whose name is the episode's, it is important to notice that she is the focus of everyone's attention from the first few minutes of the show! We see Steve's friends Jake (played by Norman Fell) and Barbara (played by Phyllis Hill) cleaning up numerous moving boxes from Italy which contain all of Steve's wife's personal belongings. This part displays in quite a humorous way the old-fashioned aspect of all these objects! So, who then is this woman with a taste for antiques? Does she not see how such things clash with the modern suburban lifestyle of 1955 America? The early part emphasises the wonderful and intense love story born between Steve and his wife while they were still in Italy and from which comes one of the best transitions between two shots I have ever seen onscreen! That transition is a true masterpiece as it directly illustrates the description Steve is making about Dominique, who is just like a tiny child watching the grown-ups but also a real woman. A woman whom he is deeply in love with! The close-up on Steve transforms into the close-up on the soft graceful face of Dominique, accompanied by a marvelous Italian melody, O mio babbino caro. From the start, we see that Dominique is proud of her origins by declaring to the customs official her full name: Dominique Francesca Della Fiore. Thus, we get to know this lovely young Italian woman who has just arrived on American soil to begin a new life in suburban America with the man of her life, Steve. Throughout this first part, we can hear the music O mio babbino caro "Oh my beloved father" at each romantic word uttered, each caring move and each longing look from our two lovebirds onscreen. A famous Italian melody, (that is to stay in the context of the story) from the Gianni Schicchi opera composed in 1918 by Giacomo Puccini. It has since become popular especially thanks to Greek opera singer Maria Callas. Dominique and Steve come to affectionate exchanges, passionate tender kisses and eyes full of love for this entire first part! Dominique herself tries to recreate a flashback of her love-at-first-sight scene in Italy as she was standing next to her statue, under heavy rain, gazing at Steve with her pretty eyes. They fell in love exactly that way, that is why Steve seems quite surprised when he sees her again standing next to the statue in front of their house in America, under the rain and gazing at him in that exact same way. In this scene, the lighting is evenly contrasted while the shadows reflect not only their differences in character and culture but it accentuates their love and friendship. For example, when Dominique attempts to recreate the moment they first fell in love, only their faces are lit while their bodies remain in relative darkness.
Clip n°1 – Dominique and Steve
Listening closely to the dialogue, we learn that Dominique is from Montefiorello, a small village in the Vallo di Nera, located in Perugia, in the Umbria region in Italy. It also figures in the contrast and culture shock of our main characters' nationalities. And let's not forget that actress Marisa herself was making her own discovery of America during the time of filming! In the second part, we realize that Steve is paying less and less attention to his wife. Already ill-at-ease in her new surroundings, she stumbles upon her husband playfully in the arms of another woman who happens to be his childhood friend, Barbara. She reacts with fury and hopelessness! From her cultural perspective, a man simply doesn't do this, even if only in innocent playfulness. After surprising the two old friends, she confronts Barbara in the kitchen, trying to explain to her, in vain, that such things are unacceptable. She tries to force Barbara to confess that she loves Steve but only succeeds in getting her to dislike her and think less of her.
Clip n°2 – Dominique and Barbara
Convinced that her husband is cheating on her with this older woman, Dominique prefers to pack her bags and return to Italy. Provocations from the couple's neighbors such as Sam Bleeker (played by Peter Turgeon) don't help matters any. Perhaps only their "Good Cheer Lady" Mrs. MacGruder (played by Betty Sinclair) might be considered a good enough friend to help Dominique integrate. It is only upon her departure that Steve realises the gravity of the situation and how much it has hurt his new young wife. He undertakes, body and soul, to win her back. Steve decides to intercept her at the customs office but despite his loving impassioned pleas, she doesn't allow herself to be persuaded and ends by bidding him an emotional "addio".
Clip n°3 – Dominique and Steve
After much reflection, Barbara ends up admitting to being secretly in love with Steve since she was 15. After a last kiss, Barbara leaves him, allowing the couple to reunite and enjoy a love that should last forever, all to the tune of a wonderful Italian melody.
Personal opinion
By looking into my personal perceptions concerning Marisa's role in "Dominique" as well as my passion (which is almost an obsession!) for 1950's era American cinema and television, it is with great enthusiasm that I recommend this episode to you! You will find three film clips with this film review but you are most welcome to contact me if you would like to watch the entire show. I recommend it to you for various reasons. First and foremost, it does glorify Marisa and her character of Dominique throughout the story by exposing her to themes like love, fear, culture shock between the Italian and American way of life, apprehension, rejection, jealousy but also… humor! All these different themes are introduced to us according to the internal point of view of Dominique and Marisa thus delivers a beautiful dramatic performance punctuated by a few comical lines. Then, it is especially interesting to recall that the TV episode "Dominique" was Marisa's first live TV experience and that she was indeed quite stressed and nervous about it. Her nervousness onscreen is notable when her voice starts to shiver slightly as she talks although her acting talent was already innate in her by 1955. In "Dominique", she is sharing with us her joy to be an actress through her constant smile and her keen and sparkling eyes onscreen. Thus, she forwards her character's emotions to the viewers, notably by the way she gazes at every one of them, and particularly Steve. (Ralph Meeker) Her look becomes that of a woman in love when she is with Steve and turns into an expression full of hate and jealousy when it bumps into that of Barbara. (Phyllis Hill) Marisa's way of acting in this episode is thus focused on emotions combined with the slight stress she must have felt. And about this wonderful Italian music, O mio babbino caro, what a treasure for the ears…! The script is remarkably well-written by Ernest Kinoy who makes it attractive and dramatic as well as comical. Viewing it, we don't feel bored or annoyed since each scene is relatively short and efficient while being punctuated by an appropriate background music highlighting the main action in the scene, whether it is an act of love or an outburst of anger. Actors Ralph Meeker, John McGiver, Norman Fell, Phyllis Hill, Betty Sinclair and Peter Turgeon all play their roles with much sincerity and above all, seek to provoke emotions in the viewers' mind whereas Betty Furness' comments during the advertising slots demonstrate the American way of life, their state of mindfulness and their utopian "American dream" on the eve of the Cold War with the USSR. All these great actors with both a dramatic and comical acting talent are showcased by Franklin Schaffner's genius taste for visual aesthetics. However, it might be quite fascinating to wonder why sometimes, Schaffner moves the camera forward on what seems to be a more or less "useless" close-up… I will end up this part by mentioning the artistic sensitivity of the script. While watching "Dominique", we are learning a lot about Italian culture and the art of antique objects. The script also offers an interesting view of American culture and the immigrants' various perceptions of it.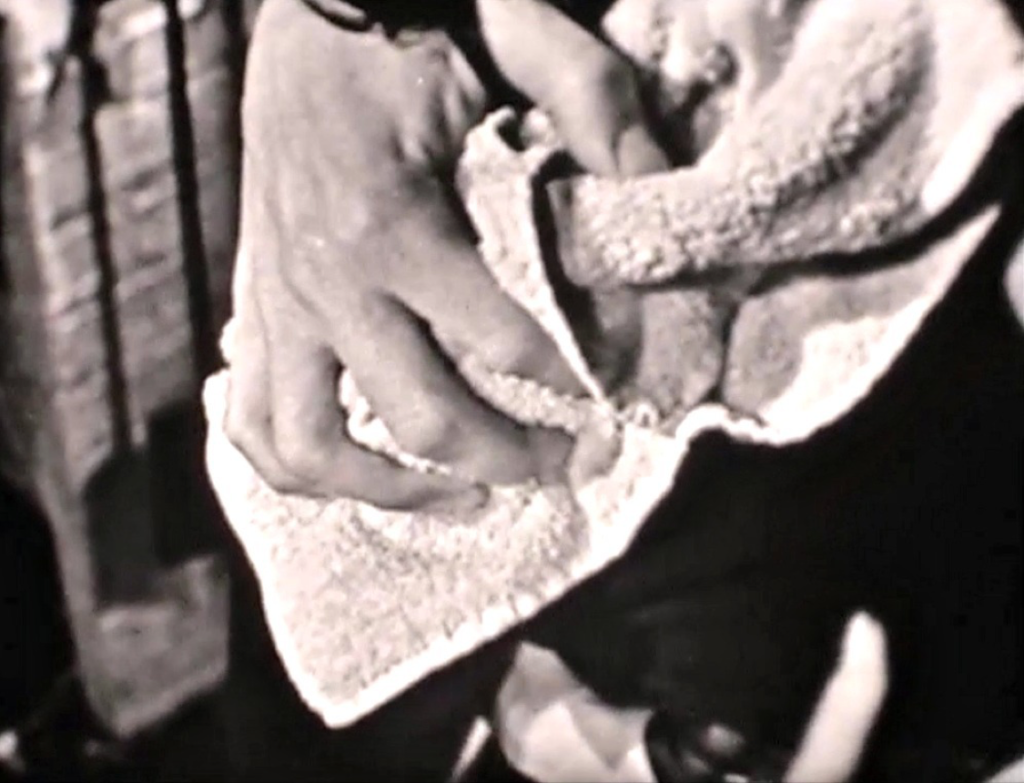 A few words from Ralph Schiller about "Dominique"
Long-time fan of Marisa and her twin sister, actress Anna Maria Pierangeli "Pier Angeli", Ralph Schiller, author of The Complete Films of Broderick Crawford (published in February 2016), has kindly shared with me his opinion and feelings as an author and film lover of the Golden Age of Hollywood about "Dominique" and Marisa's role in the episode. Here are his comments: "The modestly produced "Dominique" is an enchanting love story that holds up beautifully after six decades. Ralph Meeker, who made a career starring in gritty crime dramas and action films, is cast against type as easygoing average American guy Steve and gives an excellent performance. While on construction trip to Italy, Steve falls head-over-heels in love with a kind-hearted, elegant, doe-eyed Italian beauty Dominique, perfectly played by Marisa Pavan in a role she was born to play. Dominique loves Steve with all her heart but the culture shock of being transplanted from the eternal city of Rome to an American sub-division with monster neighborhood kids is nearly too much for the fragile newlyweds. Dominique resents that blissfully blind Steve's boyhood' pal' Barbara (well-played by Phyllis Hill) hovers around constantly because she loves him. Steve comes to his senses just before Dominique returns to Italy, and the pair begin a wonderful life together. The program is sharpened by the comic skills of actors Norman Fell, as Steve's buddy (20 years before he co-starred on the comedy series Three's Company) and the great John McGiver as an officious Customs Officer who tries to hide his heart of gold. Ernest Kinoy wrote the crisp screenplay and it was directed by the future great movie director Franklin J. Schaffner, who later directed screen classics The Planet of the Apes (1968) with Charlton Heston, Patton (1970) with George C. Scott, Nicholas and Alexandra (1971) and Papillon (1973) with Steve McQueen! Studio One was produced in New York City with former RKO movie starlet Betty Furness as the product spokesperson for Westinghouse in the live commercials."
Anecdotes and memories from Marisa
First of all, I wish to thank Marisa from the bottom of my heart for allowing me to discover "Dominique" which I had never heard of. Thanks to her kindness and generosity, I was able to watch this episode that was burnt on a DVD and we thus shared a very pleasant moment together watching it on the couch of her lovely villa in Gassin. While talking with Marisa, I noticed that she was always enthusiastic in her words regarding the filming of "Dominique", her "very first live TV show". "I was feeling pretty nervous", Marisa tells me, "but I got the chance to work with absolutely lovely and delightful people!" Indeed, whether it is the actors, the director or the crew members, everybody on the set kindly helped Marisa to relax and get comfortable for the experience. "I was still young and I had never done any live TV shows before! I didn't know what I had to do…" Marisa tells me, laughing. She particularly remembers the gentleness and kindness of her onscreen partner, Ralph Meeker, whom she previously had had the chance to meet when her sister Anna Maria was shooting her first American film, Teresa(Fred Zinnemann, 1951) and in which Meeker played the role of Sergeant Dobbs, an American soldier in Italy during World War II. Both scripts of "Dominique" and Teresa do echo each other as they deal with two young Italian girls immigrating to the United States. Marisa and her twin sister Anna's real lives!